"And let it be known," the king bellowed to his minions, "that in this space, Woody Harrelson shall be known henceforth as Minister of Defense, and blue M&Ms are a threat to national security. At 3:46 PM on Thursdays, I expect one citizen to tickle my toes with the feather of a female Canadian goose. Also, Ace of Cakes shall be DVR'ed each week; failure to do so punishable by eternal exile."
That's how I imagine a latter-day Marlon Brando would run an island. Because he did. Own an island, that is. He bought the island Te'tiaroa, Tahiti, from a British dentist after filming Mutiny On The Bounty. He sadly took his true feelings on blue M&M's to the grave, but his purchase sparked an island-hopping fever in his Hollywood brethren that has raged to this day.
It's apparently easier than ever to buy and operate your own island property, and naturally some of the most wealthy (and eccentric) celebrities have jumped on board. With a couple cool million, you can too! With the vigilant cameras and snarky correspondents of TMZ constantly gnashing their teeth, you can understand the appeal of escaping Hollywood for some solitude somewhere far, far away. In some cases, it's probably best for everyone that the celeb goes into prolonged seclusion.
We've combed the globe for the biggest stars' private sandy digs to uncover how they acquired them -- the time to buy is now! -- and what one might possibly do at their own private island.
As you wince at the lavishness, take a minute to stop and dream: What laws would you decree past "take off your shoes before entering the mansion?" What island property would suit your every need?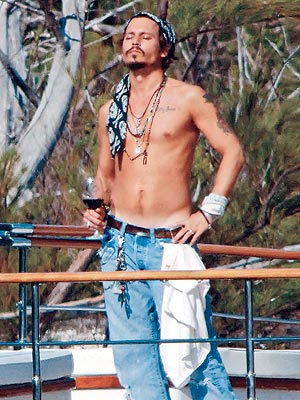 1. Johnny DeppLittle Hall's Pond Cay, Nassau, Bahamas(I've Been to the Bahamas / I Want To Go to the Bahamas)
The lowdown: Here's a guy who likes to immerse himself in his roles. After he started shooting Pirates of the Caribbean on location, Johnny Depp eyed the natural treasure and wanted it for himself. He nailed a property called Little Hall's Pond Cay, near Nassau, for $3.5 million. According to Forbes, the space "is one mile long and 1,300 feet wide with six private beaches, a cottage, Tiki hut and standby generators for electricity." The six beaches are named for each of Depp's family members and friends, including "Brando" for his island-buying hero and "Gonzo" for his close friend Hunter S. Thompson.
Had Wonderland or Willy Wonka's factory existed, we can probably bet Depp would have purchased full stake in both. (Picture: People Magazine)
2. Mel GibsonMago Island, FijiI've Been to Fiji / I Want To Go to Fiji
The lowdown: File this in the "entirely unsurprising" department. Mel Gibson frequently speculates on real estate from luxurious Malibu to more closed-off properties in Montana, Costa Rica, his native Australia and then Mago Island, Fiji, which he bought for a cool $15 million in 2004 -- one of the largest private islands in the world.
Descendants of Mago inhabitants, displaced since the mid-19th century, swirled with worries about Gibson's plans for the island upon purchase, claiming the island was sold years ago under the threat of violence. They also believed the island's pristine natural wonders would be corrupted, a fair concern when dealing with a man who has has ridden apocalyptic vehicles and written Apocalypto. And someone who is, by most accounts, legitimately insane. But Gibson assured the descendants that he intends to maintain the current condition of the island, which now hosts a few undeveloped properties, some gorgeous lagoons and beaches, a farm, some cattle, and one bizarre man with a deranged grin. If anyone needs some alone time, it's Mel. Or does he? (Photo credit: All Property Management)
3. Nicolas CageLeaf Cay, Bahamas I've Been to The Bahamas / I Want To Go
The lowdown: Cage lives just a stone's throw away from Depp at Leaf Cay in the Exumas, Bahamas, which struck the fancy of the National Treasure star in 2006. But Cage was too busy filming masterpieces to ever develop the 40-acre property, which was equipped with underground wiring and a 1500-foot airstrip. The island is now for sale, which is a shame -- what were Cage's true plans? My guess is a miniature Alcatraz modeled after The Rock.
We'll stop here with the Bahamas islands, but let it be known: Cage and Depp are one of an increasing collective of property owners there, which reportedly counts Faith Hill & Tim McGraw, Eddie Murphy, David Copperfield, Lenny Kravitz, Shakira and potentially Tyler Perry among its federation. How much of an ego-clash would those neighborhood meetings be?
4. Celine DionIle Gagnon, Quebec, CanadaI've Been to Canada / I Want to Go to Canada
The lowdown: Prolonged residency in Las Vegas can wear on anyone, and native Canadians like Celine Dion might agree even more strongly. She often retreated from Sin City to her mansion on Ile Gagnon, an island near Laval and bordered by the Mille-Ile River.
Visitors can only see the heavily-fenced-off house via boat tours like the one offered by nearby company Heron-Bleu. Considering the manic fervor that Canadians still hold for Dion -- some recently voted her the artist of the decade despite her not reaching a top-10 single in the country past 2003 -- perhaps the fence was a good idea. Unfortunately for Canadians, Dion recently announced her return to Vegas in March 2011 for a new series of shows, so her island will again be deserted in due time. And residents of Laval can put away their earplugs. (Picture by Pierre Obendrauf / Montreal Gazette)
Other Island Proprietors of NoteLeonardo DiCaprio - Planned Eco-resort in Blackadore Caye, BelizeSteven Spielberg - Rumored to own island in Madeira, Portugal
Richard Branson - Necker Island, British Virgin Islands, recently rented as the marriage spot of Google co-founder Larry Page.
Some deals to check out while you've got island fever:
Free $400 airfare when you book in Bahamas. Check it out now!
Honolulu, Hawaii: Get five luxury nights and included airfare starting at just $519!
Great Barrier Reef, Australia: Seven glorious nights of exotic fun. Starts at $1159.